This blog post was co-authored by Brian Doyle, Senior Associate at Fragomen, and Irma Dias, Associate at Fragomen.
The H-1B visa lottery happened in March of this year, and the acceptance rate was only 15%. Having your immigration status in the US be partially based on luck is not an ideal situation, but why are the chances of winning the H-1B lottery so low?
The H-1B visa is in high demand because it's one of the most versatile visa options. By understanding how the H-1B cap lottery works and what alternative pathways you have to live and work in the US, you can better equip yourself to find success.
The H-1B Visa Lottery
H-1B visas provide temporary work authorization for professionals in specialty occupations. To qualify, you must have an employer willing to sponsor you and the position must require a bachelor's degree in a related field. The maximum period you can hold H-1B status is usually six years. You may have the option to extend if you are applying for permanent residence. Keep reading to learn more about green card options for permanent residence after or instead of an H-1B visa.
There are only 85,000 H-1B visas given out per year. 65,000 for those are available to international candidates with bachelor's degrees. The other 20,000 are reserved for those with a US advanced degree (master's or higher). The regular lottery runs first; then the advanced degree lottery runs. Because there are fewer applicants who apply with US master's degrees, this lottery has higher chances of acceptance.
If you were not selected in the H-1B lottery, you can reapply next year. However, the number of people applying for H-1B visas every year is increasing which means selection rates are lower. This trend is expected to continue in the next few years. For this reason, we recommend exploring back-up options including other temporary visas or green cards.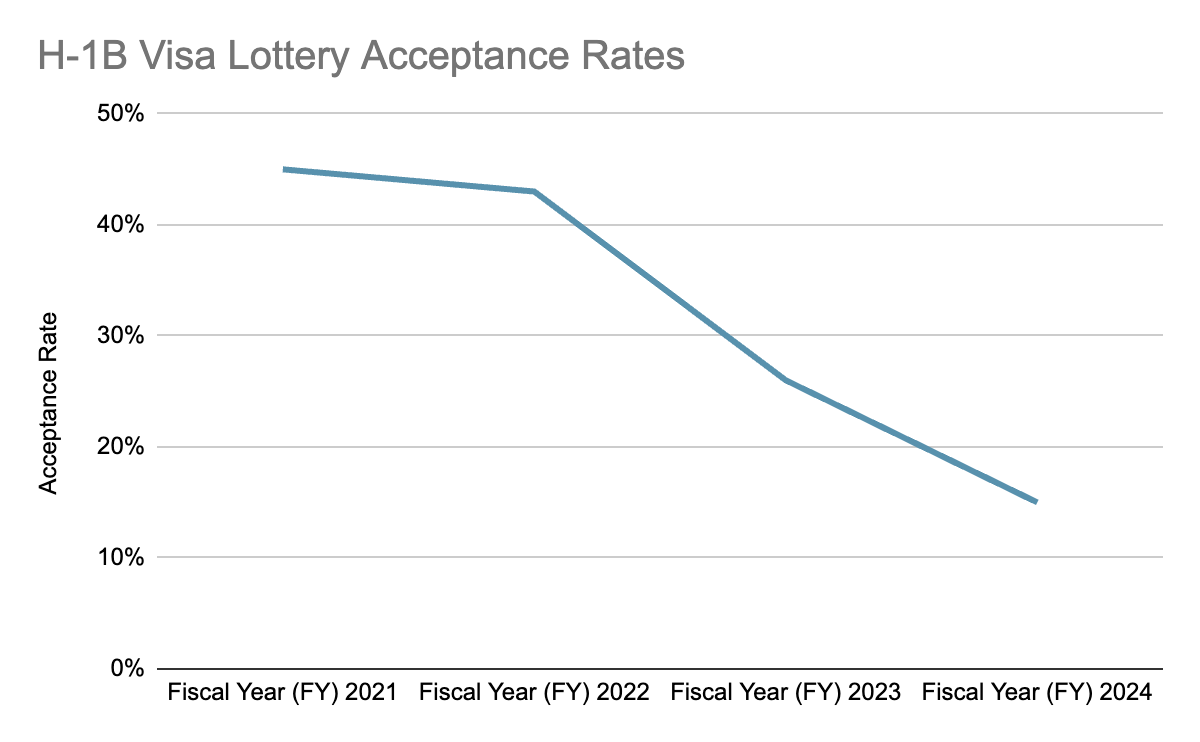 Common Progression of Status
Are you already in the US as an international student? The most common progression of status for international students is to work before or after graduation under the Optional Practical Training (OPT) program. Then, international graduates often transition to a non-immigrant status (H-1B or other temporary visa) and lastly to immigrant status (green card). However, this is not the only path for international students and workers in the US. In the rest of this post, we will highlight other popular and lesser-known immigration options.
Non-Immigrant Alternatives to H-1B Status
The lottery is the biggest barrier to getting H-1B status. Some international students and graduates don't realize that there are certain employers that are exempt from the H-1B visa lottery. There is no limit on the number of H-1B visas that cap-exempt employers can sponsor each year. And, they can file at any time versus cap-subject employers who must file on designated dates with a start date of October 1 or later.
H-1B cap-exempt employers:
Colleges and universities
Non-profit research organizations
Government research organizations
Concurrent status is also allowed with H-1B visas. If you have H-1B status with a cap-exempt employer, you can work for a cap-subject employer at the same time without having to go through the lottery. However, if your employment ends with the cap-exempt employer, you must stop working for the cap-subject employer.
Employment Options for F-1 Students
OPT is for international students in the US. It can be used before or after graduation for work that is related to the student's field of study. Each international student is eligible for up to 12 months of work authorization per degree program. They may work part-time during the school year and full-time on vacations and after graduation. Some STEM graduates can extend OPT for 24 more months. 22 new degree fields were added to the STEM OPT eligibility list in 2022, and some may be surprising.
The other work authorization program for international students is Curricular Practical Training (CPT). CPT is used for jobs that are a required part of the degree program. The duration of job authorization is determined by the program but cannot exceed the length of the program.
O-1 Visa for Persons with Extraordinary Ability in the Sciences, Education, Arts, Business, or Athletics
To qualify for an O-1 visa, you must secure employer sponsorship and show you are at the top of your field by meeting 3-of-10 criteria. The duration of the O-1 visa will be granted based on the amount of time the job/event/activity will last,  with a maximum of three years. O-1 visa holders can renew an unlimited number of times in one-year increments.
L-1 Visa for Intracompany Transfers
L-1 visas are for certain individuals who work for one year in the past three years in another country and transfer from that country to the US with an affiliated company. Examples of an affiliated company include:
A parent company
A subsidiary
A branch
Two Types of L-1 Visas
L1-A
For executives and managers
Lasts up to seven years
L1-B
For workers with specialized knowledge at their job
Lasts up to five years
While qualifying for an L-1 visa requires you to leave the US for at least one year, there are several benefits to this visa. Spouses of the visa holder are authorized to work immediately, and the L-1 is a dual intent visa which means you can apply for a green card while on L-1 status.
Citizenship-Specific Statuses
Mexican and Canadian citizens can apply for a TN visa if the job that will be sponsoring them is on the USMCA (formerly NAFTA) occupations list. This visa can be renewed an unlimited number of times in three-year increments. However, dual intent is not allowed, so you must show that you plan to return to your home country. Canadians may apply at their port of entry, but Mexicans must apply at a US embassy/consulate.
Australian professionals can apply for an E-3 visa. The sponsoring job must be in a specialty occupation with a minimum of a bachelor's degree required. There are 10,500 E-3 visas available per year, but this cap has never been met. E-3 visas last two years with indefinite extensions possible. Dual intent is not allowed. The spouse of the visa holder also has work authorization incident to status. Apply for an E-3 visa at a US embassy/consulate.
Chilean and Singaporean citizens have the option of an H-1B1 visa. There are 1,400 H-1B1 visas available per year for Chileans and 5,400 per year for Singaporeans. These caps are part of the H-1B cap, but unlike the H-1B, these caps are never met. To qualify, the sponsoring job must be in a specialty occupation with a minimum of a bachelor's degree required. The H-1B visa lasts one year with indefinite extensions possible. Dual intent is not allowed. Apply at a US embassy/consulate.
E-2 Visa for Treaty Investors
To qualify for an E-2 visa, you must:
Invest a substantial amount of capital in the US or be the director of an enterprise that you invested in
Be employed as an executive, supervisory employee (such as a manager) or essential employee
Be from a country that has a treaty with the US
E-2 visas last 2-5 years depending on the country you are from. Unlimited renewals are possible with this dual intent visa. Unfortunately, Chinese and Indian citizens are not eligible for E-2 visas.
Permanent Residence Alternatives to H-1B
In the US, a person with permanent residency status is also referred to as a green card holder or lawful permanent resident (LPR). The recommended pathway to a green card is via an H-1B visa first. However, this is not required—just highly recommended. It is possible to apply for a green card without ever having had a non-immigrant visa.
Green Card Basics
Green card applications are based on country of birth not country of citizenship. Processing times to file for your green card depend on the type of green card and your country of birth. If you have a family member who is currently a US citizen or lawful permanent resident (LPR), they may be able to sponsor you for a green card. Qualifying family members include spouses, parents, and unmarried children. Certain family members may not have wait times before receiving their green card, so this may be a good option for those who qualify.
Another option is employment-based (EB) green cards. There are approximately 140,000 EB green cards available per year. Like H-1B visas, EB green cards are sponsored by the employer who offered you a job. This can be for a current job where your visa status is expiring, or it can be for future employment where you start working once you get the green card. There are also some self-sponsorship options which we will highlight below.
Additional Green Card Pathways
There are two more types of green cards in addition to family and employer-sponsored green cards. One is the diversity visa lottery. Like the H-1B lottery, it is based partially on luck with very low chances of being accepted. There are only 50,000 diversity lottery green cards per year with about 15 million applicants.
Only people from certain countries with low rates of immigration to the US are eligible for the diversity visa. Individuals from China, India, and many other countries are not eligible. Eligible countries (based on your country of birth) change year to year so check the list here. If you qualify, you can register for the lottery every October.
Individuals who are currently in the US or seeking to enter the US to avoid or escape persecution in their home country may apply for a green card under certain circumstances. The humanitarian pathways for permanent residence are:
Temporary Protected Status (TPS)
Humanitarian Parole
US Refugee Admissions Program (USRAP)
Asylum
Contact Fragomen's immigration attorneys to discuss if you qualify for any of these green card pathways. You can always include a spouse and unmarried children under 21 in your green card process whether you are applying through an employer, the diversity lottery, or a humanitarian pathway. The family member would file a separate application. Our immigration experts can help with that process as well.
How to Apply for Employment-Based Permanent Residence
The application process for an employment-based green card is long and involved. It is either a two or three-step process depending on the green card category.
Step 1. Labor Certification (if required) – This is filed with DOL by your employer. The employer must show there is no qualified and available US worker
Step 2. Immigrant Preference Petition – The I-140 Immigrant Visa Petition is filed with  USCIS by the employer or in some cases the international candidate can self-petition. Processing times vary, so visit uscis.gov for current processing times. Premium processing is available for this step.
Step 3. Adjustment of Status (AoS) or Consular Processing – This is filed by the international candidate and their family members if applicable. Use Form I-485 for AOS if currently in the US. Use consular processing if currently outside the US Processing takes 1-2 years on average, and you cannot apply until your priority date (PD) is current. The Visa Bulletin shows the PDs and is updated monthly by the US Department of State.
Basics of the PERM Labor Certification
PERM is the first-of-three steps of the green card process for most employer-sponsored applicants. PERM does not stand for permanent residence. It stands for Program Electronic Review Management and is also known as Labor Certification. PERM Labor Certification is filed by the employer with the Department of Labor (DOL) through the PERM online system. It includes strict advertising, recruitment, posting, and recordkeeping requirements for employers. The whole process takes 2-2.5 years on average.
The purpose of Labor Certification is to make sure:
There are no qualified, able, and willing US workers
No US workers or economies will be harmed by hiring a foreign national
Foreign nationals will be paid fairly based on the prevailing wage
Top Three Employment-Based Green Card Options
There are a total of five employment-based (EB) green card categories; however, we are only going to focus on the first three which are the most popular.
EB-1: Priority Workers
One of the benefits of an EB-1 green card is that no PERM Labor Certification is required. That means faster application processing times and less work for the employer who is sponsoring you. It's usually faster for those born in India and China to get an EB-1 green card than EB-2 or EB-3. There are three EB-1 sub-categories, each with its own requirements.
Professor/Researcher:
Work must be internationally recognized as an "outstanding professor or researcher"
Must have at least three years of relevant experience teaching or researching experience
Position must be a full-time permanent tenure-track teaching position or comparable, permanent research position
2-of-6 criteria must be met
Persons of Exceptional Ability:
Similar to O-1 visa requirements but more stringent with a higher standard to prove
Must show you are top of your field and have international recognition for your work
Must meet 3-of-10 criteria
Self-petition option is available (employer-sponsorship not required)
Multinational Manager:
Must be employed as a multinational executive or manager
Must have one year of experience as a manager or executive in the past three years outside of the US with a company affiliated with the US sponsor
Employer must show they can pay your current annual salary
EB-2: Advanced-Degree Professionals of Exceptional Ability
EB-2 green cards require an advanced degree (master's or higher) or a bachelor's with five years of progressive post-baccalaureate relevant experience. The application requires Labor Certification, but there is a Special Handling option for teaching positions. These positions are more likely to be accepted with faster processing.
There is also a National Interest Waiver (NIW) option for those with exceptional ability whose employment will benefit the US Labor Certification is not needed for NIW applications. Lastly, EB-2 applicants may be able to self-petition if they do not have an employer sponsor.
EB-3: Professionals and Skilled Workers
The EB-3 is the most commonly used EB category. However, there are backlogs worldwide which means potentially long wait times. All EB-3 green card applications require Labor Certification.
| | | |
| --- | --- | --- |
| EB-3 sub-categories: | Qualifications: | Limits per year: |
| Professionals | Bachelor's degree | None, but backlogs apply |
| Skilled workers | 2 years of training and/or experience | None, but backlogs apply |
| Unskilled workers | None | 10,000 |
What's Next After the H-1B Visa Lottery
While the H-1B visa is a good option for many immigrants, it is not the only option. International students, graduates, and professionals can apply for several different immigration pathways from temporary work visas to permanent residence green cards. Each option has unique requirements in order to qualify. Qualifications may be based on the education requirements for the job, your country of birth, and your current immigration status. Fragomen experts can help you explore alternatives to the H-1B based on your specific circumstances. We work specifically and exclusively in immigration law. Contact us today if you didn't win the H-1B visa lottery.
The contents of this post are intended for informational purposes only and do not constitute legal advice.