Finding a job can be intimidating, especially for international students facing unique obstacles like work authorization and visa sponsorship. Finding and applying to jobs abroad can be a challenging process, and some employers are reluctant to front the costs of sponsoring international students for permanent positions. So how do you increase your chances of landing the perfect job in the country of your dreams?Luckily, the right framework and job search strategies can help anyone overcome these challenges and receive an offer to work in the U.S.
Many international students arrive in the U.S. with expectations that don't quite match the reality of their situation. For instance, some students assume that employers will reach out directly with internship offers or full-time opportunities. They take a passive approach and wait for companies to come to them, only to be disappointed when they don't hear anything. What's the problem here?
Unless you're looking exclusively for on-campus employment, employers won't come to you.
Once you arrive in the U.S., it's your job to build a network and reach out to prospective employers. Most companies won't come looking for entry-level candidates, so it's up to you to build an effective job search strategy. The Career Services Office at your university can provide you with a variety of resources, information, and even leads on networking events.
When looking for jobs, it's important to focus on your interests as well as your value to potential employers. Employers are looking for value in the following areas:
Professional experience – This includes internship experience, part-time or full-time roles, academic projects, and relevant degrees or classes.
Industry knowledge – Do you have specific knowledge of a particular industry because of your past academic or work experiences?
Functional experience – What roles are you best suited for? Consider any experience or skill you have in areas such as marketing, finance, sales, technology, etc.
Culture – Most companies want to maintain a specific company culture or identity, and they prefer candidates that fit this culture.
INTERNATIONAL ADVANTAGE: Now more than ever, U.S. companies are emphasizing diversity in the workplace. This makes applicants from foreign countries and underrepresented minorities especially attractive, especially if they speak multiple languages or have specialized regional experience or knowledge.
It's also important to target companies with plenty of employment opportunities and a proven record of sponsoring entry-level international candidates. You can use the following opportunity assessment matrix to gauge the best target employers.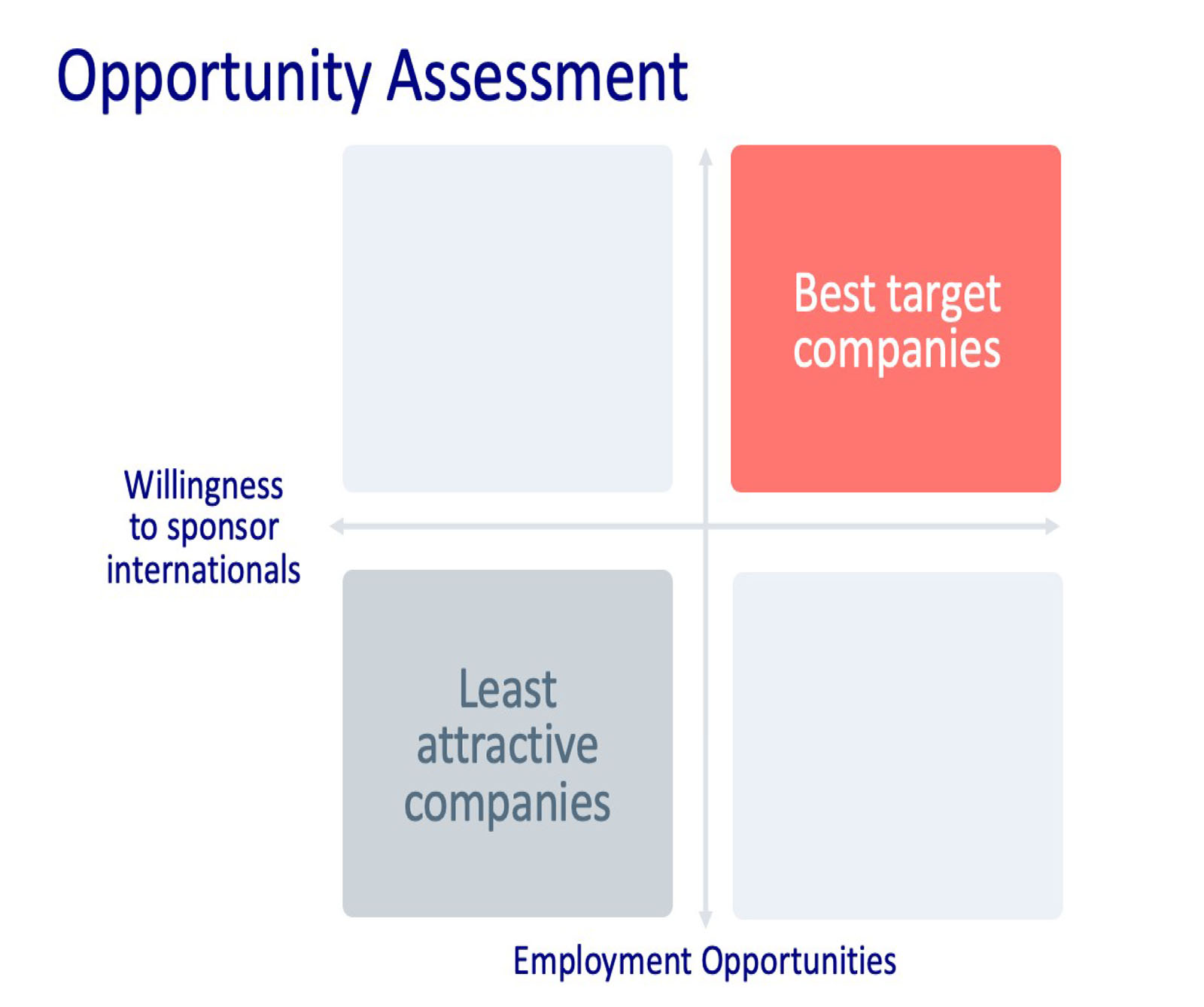 How do you go about finding open jobs? While traditional job boards can be a helpful place to start, they should never be your only search tool. Most open positions at U.S. companies are never even advertised on job boards – more often that not, entry-level and mid-level jobs are filled through networking or internal referrals. If you've worked or interned for a U.S. company in the past, you can reach out to your contacts there to request an internal referral for open positions in the company. For the rest of us, it's time to network.
While networking can seem intimidating, it's ultimately the best way to find new job opportunities and meet potential contacts at target companies. Luckily, there are plenty of different ways to network (including on Interstride). Networking opportunities include:
LinkedIn
Existing professional and personal network
On-campus career fairs, clubs, and employer events
University job postings
Off-campus networking and recruiting events
At the end of the day, networking just means meeting new people, learning about their company, and collecting their contact information.
While it can be scary to put yourself out there, recruiters at career fairs and off-campus events are there to help you. When it comes to individual networking outside of a set recruitment event, most people are happy to talk about their jobs and offer advice to young professionals.
Before you reach out to employers and potential contacts at target companies, it's important to focus on connecting with hiring managers rather than human resources teams.
Hiring managers are typically department heads or business division leads who make final hiring decisions. Human resources employees usually screen candidates and provide administrative support to hiring managers, but they don't make the final call.
Furthermore, hiring managers are the ones with the authority to lobby for your visa sponsorship. So while you may speak with HR representatives during a preliminary phone screen, hiring managers are the real networking powerhouses.
Alright – you've gone to some networking events, met some people, and collected some phone numbers and email addresses. Now what?
Once you've met contacts at some of your target employers, you can learn more about the company and develop a professional relationship with your contact by requesting and attending an informational interview.
These are not formal interviews, even if you've already applied to a job at the company where your contact works. In fact, you should almost never ask for a job up front during an informational interview.
Rather, these interviews are more like short meetings where you can get to know your contact and gather information about the company. So how do you go about requesting an informational interview?
Reach out to a company contact through any of your networking channels (someone you find on LinkedIn, someone you meet at an event, etc.). Send them a short and simple email inquiring about their availability for a brief phone call or in-person
Prepare a set of questions for the meeting. Focus on your contact's work history, their role at the company, and any other information you find
Meet with your contact. Be courteous, ask plenty of questions, and don't ask for a
Send a follow-up email to thank the contact for their
If you find relevant job openings at the contact's company, you can apply for these roles and request an internal referral of your
Internal referrals are a way for existing employees to refer or recommend candidates that could be a strong fit for the open role. Because of this referral, the candidate's resume is pushed to the top of the "pile" and receives extra attention from the hiring team.
Resumes and cover letters
No matter what kind of company you're applying to, most initial applications will ask for a resume and a cover letter.
It's important to cater your resume to the exact type of role you're applying to. Don't include any information that seems irrelevant, and try not to exceed a page or two at most. If you're applying to jobs in two different sectors (or even two slightly different roles), your resume may look completely different for each application.
Similarly, each cover letter you write should be totally unique. While you can start with a base template for each role you apply to, it's important to demonstrate a specific interest in each individual role. Employers like to see that an applicant has done their research on company policies, achievements, and culture. Furthermore, the relevant skills that make you an attractive candidate for a corporate finance role might be completely different from the skills you need to succeed in an FP&A analyst role.
If possible, direct your cover letter to the hiring manager or division lead who will ultimately be reading your application.
Even if you find the perfect job, you'll need work authorization from the U.S. government if you
want to work in the United States. The type of work authorization you'll need depends on a few different factors, but it's important to learn about every type of authorization so you know which options might be relevant during the course of your education. Your International Student Services Office will have all the information you need, but here's a quick primer on some common work authorizations for international students:
Curricular Practical Training (CPT) – temporary work authorization that allows F-1 students to accept part-time or full-time employment in their academic field after one year of full-time study (i.e., internships)
Optional Practical Training (OPT) – temporary 12-month work authorization for graduated F-1 students to gain practical work experience related to their field
STEM extension – a 24-month OPT extension for graduated F-1 students with degrees in Science, Technology, Engineering or Math (STEM)
H-1B & Green Card – long-term work authorization options. H-1B visas, which are subject to annual quotas, allow international employees to work in the U.S. for up to six years. Green cards, also known as Permanent Resident Cards, allow people to live and work permanently in the U.S.
No matter how much energy you put into your job search, there is no guarantee that you will be able to work in the U.S. That's mainly because the H-1B visa—which is typically the work authorization required after you complete your Optional Practical Training (OPT)—is lottery- based and capped at an annual quota.
If you are unsuccessful in your visa process, you have a few different options:
Explore other visa and immigration options – Consult your immigration lawyer to look at other immigration options that might be applicable to your situation (i.e., OL, L1, NIW).
Ask your future employer to relocate you to their international offices – If you receive a job offer from a U.S. company but don't win the H-1B lottery, you can request that your employer relocate you to one of their international locations. Oftentimes, multinational companies can easily relocate a candidate to their London or Toronto offices.
Explore international options – Seek out opportunities in countries with less stringent immigration processes. For instance, Canada has favorable immigration policies and plenty of opportunities for high-skilled international students and
As an international student, staying flexible is the key to success! Continue to build your professional network wherever you can, and remember that the value of your U.S. education is global – the scale of your future work will most likely be global as well, regardless of where you work.
Hunting for the perfect U.S. job can be a tricky process, but it's important to remain focused, stay positive, and keep pursuing new opportunities wherever they arise.