International students studying in the US do not automatically receive authorization to work off-campus, but Optional Practical Training (OPT) provides work authorization for students on F-1 visas. Taking advantage of OPT helps you earn money and build your resume before and after graduation. OPT lasts up to 12 months, and the work must be directly related to your area of study. When you apply, you must designate an OPT start date on your application. Choosing the most optimal OPT start date is essential to maximize your employment opportunities as an international student.
Types of OPT
There are two types of OPT, with post-completion being the more common and recommended type to use. If you use 12 months of pre-completion OPT, you may be ineligible for post-completion OPT.
| | |
| --- | --- |
| Pre-Completion | Post-Completion |
| Off-campus employment before graduation | Any employment after graduation |
| Can start working after one full academic year of study | Can start working after you complete the academic program |
OPT timelines and key considerations for choosing a start date
Each type of OPT has its own timeline, and the optimal start date will vary based on the type of OPT and your specific circumstances. Keep in mind that employment cannot start until on or after the OPT start date. While the OPT start date doesn't have to be the same as your employment start date, they can be the same date, or the OPT start date can occur before the employment start date. For example, if you receive a job offer to start a job 3 days after you graduate from college, you can put that as your OPT start date. However, if you don't have a job offer yet, you can still apply for OPT and put a later start date to give yourself time to find a job.
Pre-completion OPT
Pre-completion OPT is used to work during your academic studies. You can work part-time (up to 20 hours a week) when school is in session and full-time during breaks and summers. You must complete one full academic year before you qualify for OPT. You can apply up to 90 days before the end of your first year of college.
If you do decide to do pre-completion, know that once you submit your application, you cannot change OPT start date even if you do not find a job. Most international students do not use pre-completion OPT because it reduces how much post-completion OPT they may be eligible for. Instead, they are strategic and save OPT for post-graduation.
Post-completion OPT
Because you only get a total of 12 months of work authorization as an international student/graduate, most F-1 students save OPT for after they graduate. You can apply for post-completion OPT up to 90 days before your academic program officially ends. You can find the official end date on your Form I-20. The OPT start date must be within 60 days after the end date of the program. After 60 days, your student visa will expire, and you will no longer be able to apply for OPT.
For STEM students only, you may qualify for a STEM OPT extension. The extension provides an additional 24 months of work authorization for a total of 3 years of work authorization. To apply for the STEM OPT extension, your employer must be part of the E-Verify program. Apply as early as 90 days before your current OPT Employment Authorization Document (EAD) Card expires, and make sure your application is submitted before the EAD expiration date. The STEM OPT start date you put on Form I-983 when applying should be the day immediately after your current OPT end date.

Interstride tip for travel and transition considerations: Your OPT eligibility ends when you leave the US after graduation. If you do not apply for OPT and depart from the country during your 60-day grace period, you will not be able to return to the US without getting a new visa.
How to choose the best OPT start date
There is no best OPT start date for everyone. Your start date for post-completion OPT can be any date  from your graduation date up to 60 days after graduation. Here are some key recommendations on how to choose your optimal start date:
Research companies and typical hiring cycles in advance.
Align getting a job offer and your employment start date within the 60-day grace period.
Don't wait until it's too late. It takes time to find a job and process work authorization.
Explore these common scenarios to see your ideal start date:
| | |
| --- | --- |
| If you have a job offer before graduation … | You will likely want to start working soon after graduation to maximize your OPT days. Set your OPT start date as early as possible to give yourself plenty of time to apply and receive your EAD card before graduation. |
| If you're still job searching … | You might want to choose a start date as late as possible to give you more time to job search while minimizing how much that eats into your allowed unemployment time under OPT (up to 90 days). |
| If you have a strong lead on a potential job … | Try to estimate what you think your employment start date will be. Choose an OPT start date a little before that to ensure you can start working when the employer hires you. |
Unemployment under OPT
You can apply for OPT without having a job offer, but this complicates choosing an OPT start date because you don't know when you will find a job. It could be a couple of days, or it could be a month. Once you graduate, you need to choose an OPT start date that's before the end of your 60-day grace period, even if you don't have a job yet.
Starting on your OPT start date, any day you are not employed will be considered an unemployment day. You can have up to 90 unemployment days for 12 months of OPT or up to 150 unemployment days if you use the STEM OPT extension. In the event that you cannot find and start a job in the US after the allotted unemployment period, you will no longer be eligible for OPT. Lastly, it's recommended to stay in the US while you are waiting for your EAD card and while you are still searching for employment. If you do leave, you may not be able to reenter the US without both your EAD card and a valid job offer.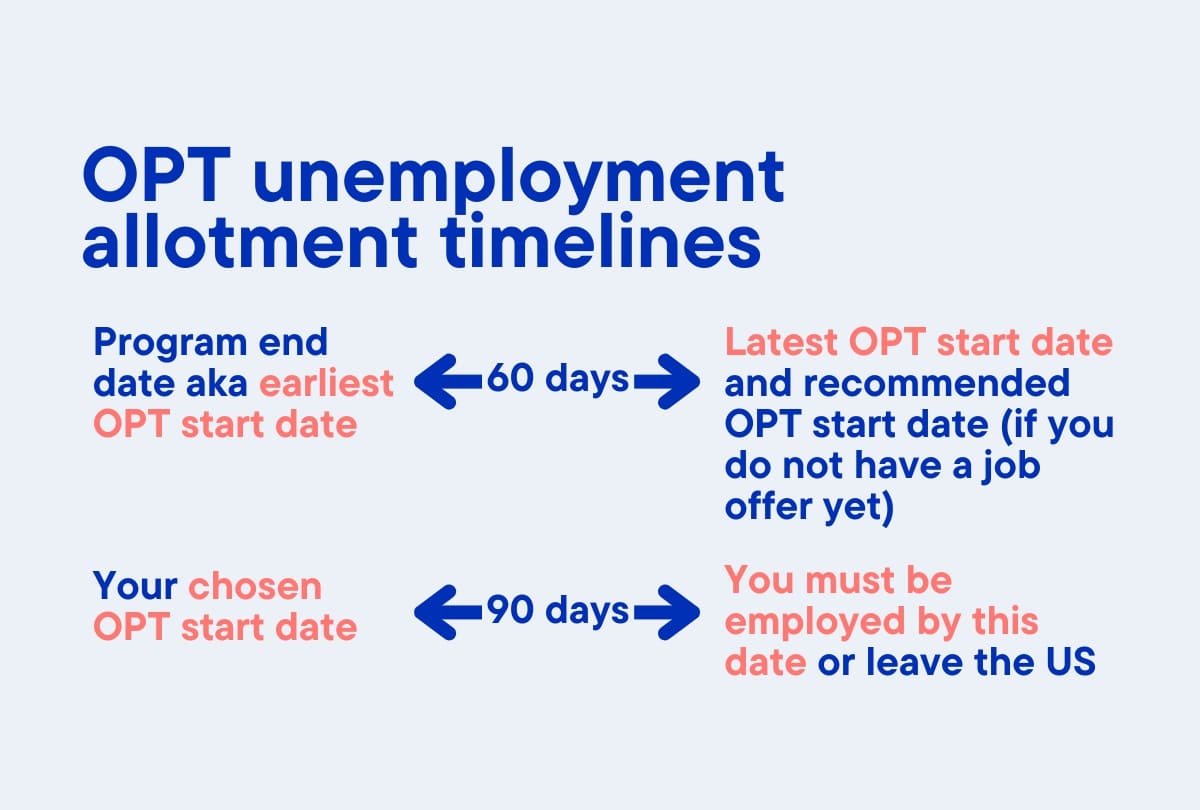 OPT start date FAQs
While you're waiting for your OPT to be approved and waiting for your EAD card, should you travel? 
It is not recommended to travel until your OPT is approved, you have your EAD card, and you are employed by the US employer on your EAD card. If you leave the US before your OPT application is approved, and it is then rejected or returned, you will no longer be able to return to the US on your student visa or use your OPT.
Can you travel out of the US between getting your EAD card and starting your job? 
Yes, as long as you have your EAD card and evidence of your job offer, you can travel outside of the US and return.
Between graduation and getting your EAD card, can you work? 
No, you cannot work after graduation until you have your EAD card, and you cannot work on-campus without work authorization after graduation because you are no longer a student.
How long does it take to get your EAD card?
Once you submit your application, required documents, and application fee payment, it takes 1-3 months on average to receive approval and get your EAD card. You can check your application status online using your Form I-797 receipt number. You can also track your EAD card once it's been mailed through your USCIS Online Account.
Choosing your ideal OPT start date
You must apply for OPT within a specific timeframe, and your OPT start date must be on or before your employment start date. For pre-completion OPT, apply anytime after your first year of school and up to 90 days before your desired start date. For post-completion OPT, apply up to 90 days before you graduate, and make your OPT start date before the end of your 60-day grace period. If you do not have a job yet, set your OPT start date for later rather than sooner (within the required timeframe) to give yourself time to find work. Follow these guidelines to maximize the amount of work authorization you have under OPT and the amount of time you can remain in the US.