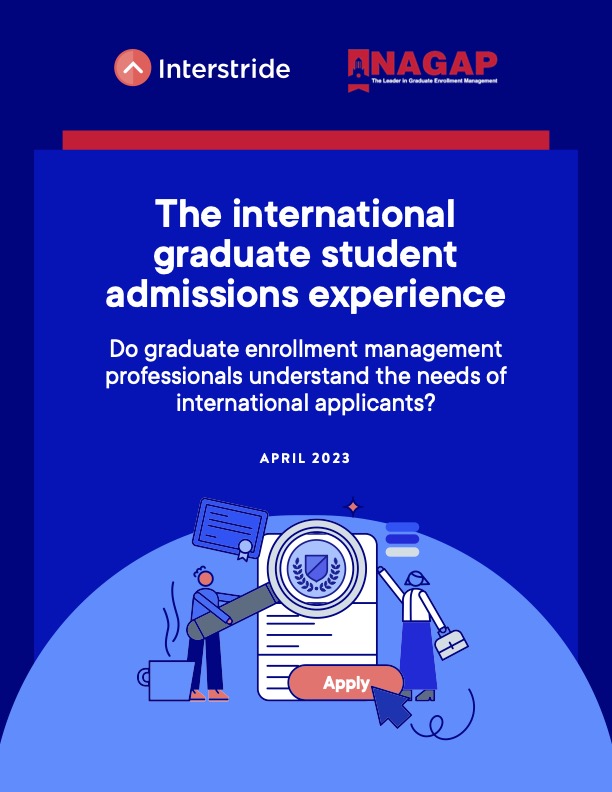 The international graduate student admissions experience
International admissions is becoming more competitive than ever, and international students face unique challenges in pursuing higher education in the U.S. With students' needs and behaviors constantly evolving, graduate enrollment management (GEM) professionals must stay in touch to recruit and support them adequately.
Do admissions leaders understand the issues with which international applicants and prospective students are struggling? To answer this question, we compare and contrast admissions leaders' perceptions of international students' challenges with what international students themselves report.
The admissions journey is long, including researching schools, completing applications, and pre-arrival preparations regarding visas, finances, and more. For international students and their families, this is one of the most important decisions they will make. By identifying alignments and misalignments between GEM professionals and international students, possibilities emerge on how to better support international students.
With the rebound of international student enrollment to pre-pandemic levels, and the continued growth of graduate students in particular, there has never been a more exciting or crucial time for GEM professionals to understand and support their students.
Highlights from the report include:
Understand the needs of graduate international prospects and applicants throughout the admissions journey.
Compare and contrast GEM professionals' perceptions of international students' admissions journey with their actual experiences.
Identify ways to support and engage international students better, and inspire action to make those changes.
Read the report

Interstride is the #1 platform to attract, engage, and retain international students
180+
higher-ed institution partners
80,000+
students and alumni from around the world
1
seamless portal to support students to suceeed